What a wonderful way to end a Saturday...by arriving home to an exchange package!!!
The biscornu from my original partner has gone missing, so the lovely Shay (Hi Neighbor!) was gracious enough to fill in and spoil me!
After reading the sweet note from Shay, I lifted the tissue paper and found a gorgeous gift bag and oodles of tissue paper wrapped goodies.
The bag contained an adorable calendar of Wild Babies, CCN's Cherry Hill, three gorgeous pieces of fabric for finishing projects (tied with ribbon that will probably end up on a mini pinkeep), a little box of Godiva chocolates, four skeins of DMC Variations, another beautiful length of ribbon and a cute metal box with some charms hidden inside (I almost missed them).
Last, but certainly not least, I was able to unwrap the biscornu. Stunning doesn't even begin to describe it! It's a Just Nan design and it sparkles, shimmers and shines! It will be on display all year, but will have a place of honor at Christmas!
We've been gone all day, but I couldn't not post this tonight! I will add pictures
tomorrow
now! You can click the thumbnails for larger images.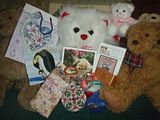 Thank you so much, Shay! I absolutely love everything...you couldn't have done better! Thank you as well to Carol, for her dedication to this awesome group!