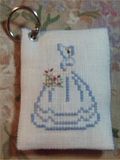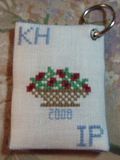 I received a delightful package today, from Irmeli! My photos don't do justice to the contents, at all.
The first two pictures show the front and back of the floss ring tag. Isn't this crinoline lady just beautiful and so very delicate! The flower basket on the back is just as sweet.
The bottom picture shows the tag along with the goodies Irmeli selected for me; a postcard of Irmeli's country (Finland) with a sweet note on the back, a cut of windowpane linen that I cannot wait to use, green silk embroidery ribbon, red satin ribbon, 2 DMC flosses (I love the colors!) and a set of gorgeous buttons. I've never seen angel buttons like these...just stunning!
Thank you very much, Irmeli, for a lovely exchange and thank you, Joan, for coordinating this exchange.